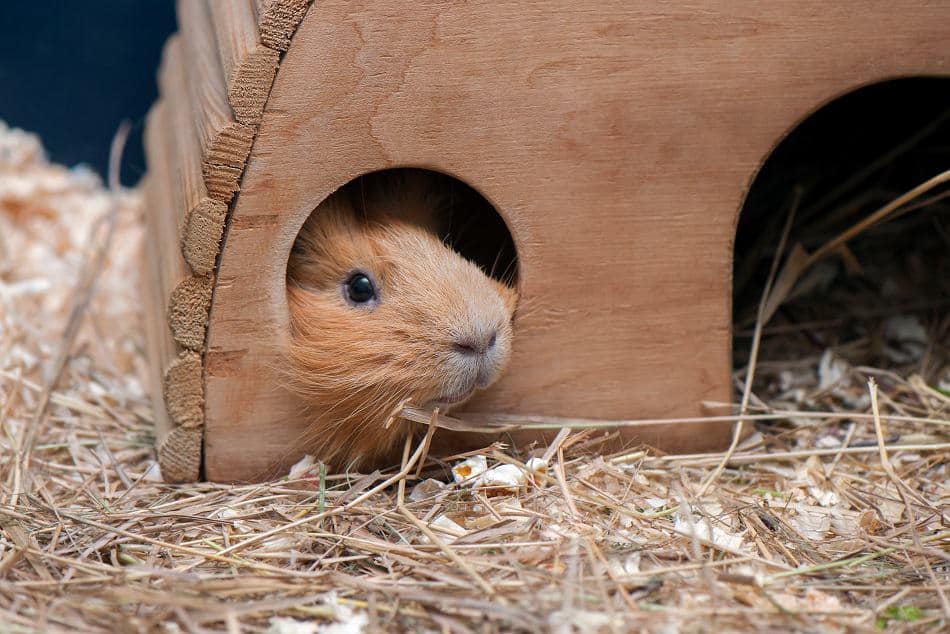 Pet guinea pig owners, both new and experienced, know it's important to have a cozy home for their adorable pets to live in that's also easy to clean and manage.
Guinea pigs, in general, are active animals that need sufficient space to play around and live their lives. That's why small, commercial cages aren't usually a good fit for them.
When it comes to designing a cage yourself, Coroplast is a material that has proved its worth in building nice cages over the years.
This material can often be hard to find, and when you can find it, sometimes it's only available in large quantities. Some people even have a hard time getting it delivered as well.
If that's the case for you, or you're in a similar situation, you may be wondering what can you use instead of Coroplast for your guinea pig cage.
The alternatives for Coroplast that you can use are:
Sheets of linoleum.
Shower curtains.
Waterproof drop cloths.
Thick plastic tablecloths.
Waterproof mattress liners.
Tarps.
Moisture barricade underlayment.
I spent hours looking through different forums to find these great alternatives for Coroplast that guinea pig owners use. So in this article I'll go over the different types I found that work well, and how you can use them.
Sheets of Linoleum
Linoleum is a great alternative for Coroplast, primarily because it is easier to find and is less expensive.
Linoleum is also easier to clean compared to Coroplast. So, if you are pressed for time, this could be your go-to option.
All you would need to do is cut a sheet of linoleum to the right size for your cage and then place it on the floor of the cage.
Then you can use clips or any pet-friendly sealer to seal the corners of the linoleum sheet so that there is no leakage of food or waste from your furry friend.
You can also use wood as a base of the flooring and then cover it up with linoleum for extra protection.
Just make sure you cover the edges with enough bedding for your guinea pigs so they don't end up chewing the material.
Linoleum is very easy to mold into place and is usually sold by the foot, just make sure you get enough for your guinea pigs cage. You can check the listing below if you're interested in using sheets of linoleum.
Easy to Cut Printmaking Linoleum- 12 Inches by 2 Feet
This easy cut linoleum is great for making just about any size that you want
It is sold by the foot so you can make long large prints or cut it down to make smaller prints
It is 1/8 inch thick and the roll is 12 inches wide
Shower Curtains
A shower curtain is not only super-easy to find in stores, but it's also easy to cut into the desired length and shape you need.
These advantages make it a great alternative for the harder to handle Coroplast.
If you have an old but clean shower curtain or an unused one lying around somewhere in your house, go ahead and use that.
After cutting it into the size you need, simply set up the grids and place the shower curtain to create the bottom of the cage.
Cover it with fleece so that your guinea pigs don't come in direct contact with it because as you know, sometimes they'll just chew on anything.
For extra protection, you could place some newspapers between the shower curtain and the fleece.
Waterproof Drop Cloths
Drop cloths can be easily found in the paint department of most stores and are widely used to prevent paint from getting everywhere while doing any kind of painting.
However, paper drop cloths would not work for your guinea pig cage as they would be destroyed in a day and you would have to keep replacing them, which can get expensive.
So instead, save yourself some money and use a waterproof drop cloth. It's durable, easy to clean, and reusable.
Those reasons along with the fact that it's an easy material to work with make it a great alternative for Coroplast.
Line the waterproof drop cloth the same way that you would place the shower curtain, which would be on the floor of the cage. Then cover it with fleece for your guinea pigs.
Thick Plastic Tablecloths
Another simple but efficient alternative for Coroplast for your guinea pig cage is to use a thick plastic tablecloth.
Again, the key here is plastic because most other materials would not be waterproof.
Like the other materials in this article, tablecloths are another cheap and easy to find item that you can use instead of Coroplast. You don't even need to buy the ones with fancy designs unless you want to.
You can get a plain-looking tablecloth that can be cut into the right size for the cage. Or you can get one that's already a good size for the cage.
So if you have a spare tablecloth lying around that you got as a gift years ago, now is a good time to bring it out and put it to use.
To set up the cage floor, place the tablecloth at the bottom and cover it up with fleece and any other materials you would like.
You can also use a combination of a sheet of linoleum and a tablecloth for extra support.
Waterproof Mattress Liners
Mattress liners can be found at any home store. The waterproof versions, although not as common to find laying around the house as a tablecloth, are a great alternative for Coroplast.
Washable cotton mattress pads also work great because they do well in holding in any moisture.
However, waterproof mattress liners are the way to go if you plan on covering it up with an absorbent like a towel, and then placing a soft fleece on top as the base for bedding.
Just be sure that the mattress liner you get is the right size that can hold the cage grid properly.
If you're interested in using a waterproof mattress liner check below for a great price. You can choose from a twin-size all the way up to a king-size mattress liner, it just depends on the size you need for your cage.
Tarps
A Tarp, or tarpaulin, is an extremely strong and waterproof sheet that's usually made out of plastic.
If you've used a tarp before for protecting your car from bad weather or providing extra protection to your garden, you know how tough it could be.
If you have some extra tarp, you could use it as a flooring material for your guinea pig cage. Tarps are widely available and can be found online and at most stores.
The price varies according to the quality, but you could easily find some cheaper ones in most retail stores for your guinea pig cage. It's definitely cheaper and easier to find than the Coroplast.
Another benefit of using tarps is that as they are usually very large. That means you can use a single sheet to not only cover the floor of the cage, but you can also roll it up the sides of the cage.
As usual, place the absorbent material and fleece bedding of your choice on top of the tarp floor.
Moisture Barricade Underlayment
Although it's not necessarily a common choice, these sheets are specifically designed to hold moisture and can be used for your guinea pig cage. These again can be found online and in home improvement stores.
So if by chance you have some unused underlayment laying around, it can be a decent alternative as well.
You can place the underlayment on the floor and seal it on the sides of the cage grid by using a safe pet-friendly sealant. Then place the fleece and any bedding on top.
Conclusion
Building a good home for your guinea pigs doesn't have to be stressful or expensive.
With so many different options out there, designing a cage all by yourself using affordable, handy, and safe materials is a fairly simple task.
At the end of the day, all you need is a waterproof base with something absorbent on top, where you can decorate your furry friend's warm bed.
As a plus, all of the materials in this article work really great for playpens as well.
So, if Coroplast isn't available for you or you'd rather use a different material for your guinea pig cage, try one or more of these great alternatives.